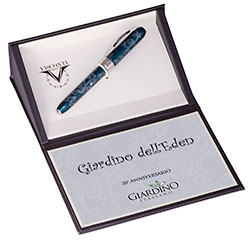 When Giardino Italiano turned 20 (20 years of online sales), Visconti made a special pen for us; a Limited Edition in 100 pieces to celebrate the anniversary, the first one in the world for pens' webshops.
Also because the very first pen sold online in an e-commerce was actually a Visconti, therefore it was an obvious choice.
In these monts, everybody liked it, and it has been a best-seller, for a series of reason – in my opinion – that I'm trying to list here below.
1. It's a Visconti limited edition, but its price is not.

Because, we know: price matters….
We kept some features (like the steel nib, or the converter filling) that let it possible to keep an affordable price.
2. Exclusive pattern, that represents the Tree of Life in the Eden Garden, made by Scrimshaw technique.

The Scrimshaw is an engraving technique  consisting of cutting resin with a very sharp tool
to create a decorative pattern. The images are then filled in with printing ink, in this case a silver colour,  and left to dry dry for at least three days. At the end of the process, a finely smoothed design appears.  In ancient times scrimshaw was used to decorat ivory handles, such as on walking sticks,  collection knife handles and rifle stocks.
At this moment, Visconti is the only company in the world to use this technique for its production.
The pattern, inspired to Klimt's style in his Tree of Life, represents a tree – an apple tree, of course – winding around the pen's barrel and reaching out to the cap, with a motif of  tangled branches that grow with curls, spirals, leaves and apples; like a precious embroidery that lighten the pen's sobriety.
Amongst the apples, which are considered symbols of knowledge, is a well hidden serpent, a symbol of temptation.
You must be very patient to find it: it's veeeeery well hidden!
3. (Edit 2021) Also a gift!
At the time of this writing, I was mentioning special nibs such as the ExtraFine calligraphic and the Stub in point 3. Unfortunately, those nibs are discontinued and sold out.
Thus, I decided to combine the purchase of the last black Giardino dell'Eden pens (because the blue ones are sold out) with a luxury gift: one of the Visconti's leather wallets.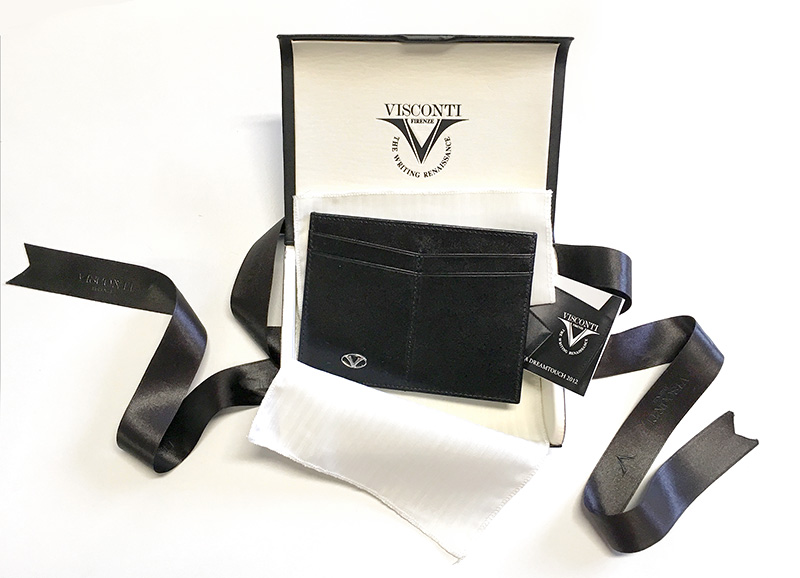 This offer may change, in case of unavailability of this model of wallet. Please check the website's page for a confirmation!
4. Even Stephen "SBRE" Brown likes it: look at his video-review!
SBRE ia a blogger and a pen enthusiast; he reviewed the Giardino dell'Eden with his usual precision and accurancy.  Here is his video!
It's in English, but you can set subtitles in your language (Thank you Google!)
5. Fidelity Discount and Gold Club: exclusive discounts for our customers.
Our customers appreciate a lot our Fidelity Program, that is deducted from the second order: and our most loyal customers, who earned the Gold status, know to have special prices for all the high-level pens: no need to ask, it's already well visible! Plus, they usually have priority for super-special offers!

Each Visconti Giardino dell'Eden you buy, you'll get a magnetic gem of  Visconti MyPenSystem for free.
Only in bundle with a Giardino dell'Eden (fountain pen or roller). One gem each pen.
Thus, at the end, the "good reasons" should be 6, and not 5; but we don't count the last one, because it's a gift!
Merry Christmas to everybody!
.
Susanna Buffo
Giardino Italiano
.