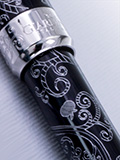 Earlier this year, Giardino Italiano issued a very special pen to celebrate its 20th anniversary: Garden of Eden. This pen was exclusively designed and produced by Italian penmaker Visconti for Giardino Italiano. Its style, character and significance are unique, and as rare as the scrimshaw technique used to decorate each and every piece of this limited series.
Some months later, we asked our customers what they thought about the Garden of Eden in an online poll. We were so amazed by their responses that we thought to share their feedback and thoughts in our blog as one of our best advertisements ever.
Garden of Eden: why you should buy it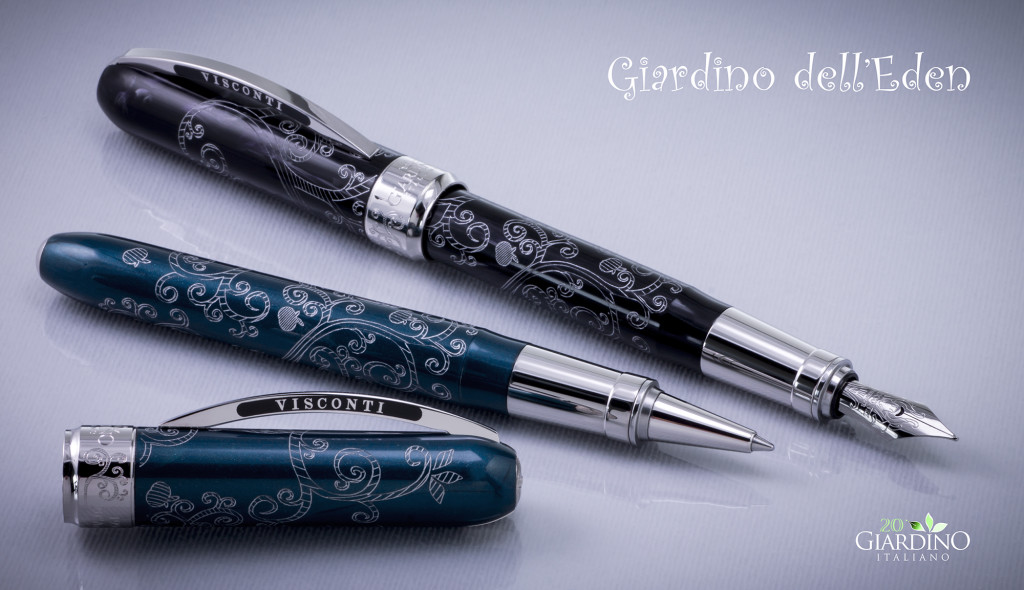 The first obvious fact resulting from the poll is that you loved the Garden of Eden for its colours, design and because it's a Visconti pen. "I loved the design – feminine and swirly. The petrol colour was intriguing as well. And black, well, it's a classic so you have to have one of those 🙂 Not to mention, I love Visconti fountain pens – they make up most of my collection right now." – Shauna
This special combination of factors won the heart of most of our customers, especially collectors: "In seeing its beauty, I thought it had to be part of my collection" – Fabrizia
However, there were also different factors influencing the choice of Garden of Eden: "I love writing tools in general; Giardino Italiano feeds this passion of mine that makes me buy things I don't exactly need." Well… we love tempting people with beautiful pieces of art and we are happy to succeed in fueling such a beautiful passion. Therefore, you will excuse us if we don't feel guilty about that. We are, indeed, quite proud.
Many of you also stressed that the Garden of Eden "is a very peculiar limited edition pen offered at an affordable price for everyone." – Alice
Finally, for the 83% of the people who bought Garden of Eden, the Visconti brand was decisive in determining whether to buy the pen or not.
Do you need any more reasons? Well… you have found some more and made our job easier.
Black or Teal?


You have advocated Teal because it's an unusual, deep and rich colour and black, as well, because it's always fashionable and you can't go wrong with it.
However, to our surprise, 33% of our customers decided not to be influenced by colour. They simply bought one of each. Why choose when you can have both?
Someone also suggested to us to add more colours.
How do you feel about that? If you have something in mind, please leave your comments below: we'd love to hear more about your wishes – you never know!
Giardino's identity in a pen
83% of our customers think that the name "Garden of Eden" well represents Giardino Italiano's corporate identity and it is an appropriate name for the pen: the design and style seem to well fit the image of Eden. A small percentage were either unimpressed by the name or had a split opinion due to the Biblical reference. We will keep this in mind – we want all our customers to be happy.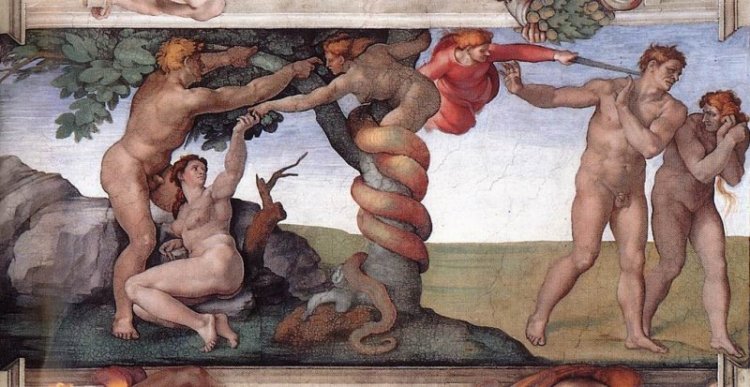 In our blog post dedicated to Garden of Eden, we have tried to trace the different origins of this story, in different traditions and parts of the world. However, we were happy to see that whomever bought the pen found smething special in the decoration that made it worthwhile in many ways: the apples, Adam and Eve, the Tree of Life, the art, and in a broader sense as "a paradise for any pen's owner and user."
The hidden snake: the chase is open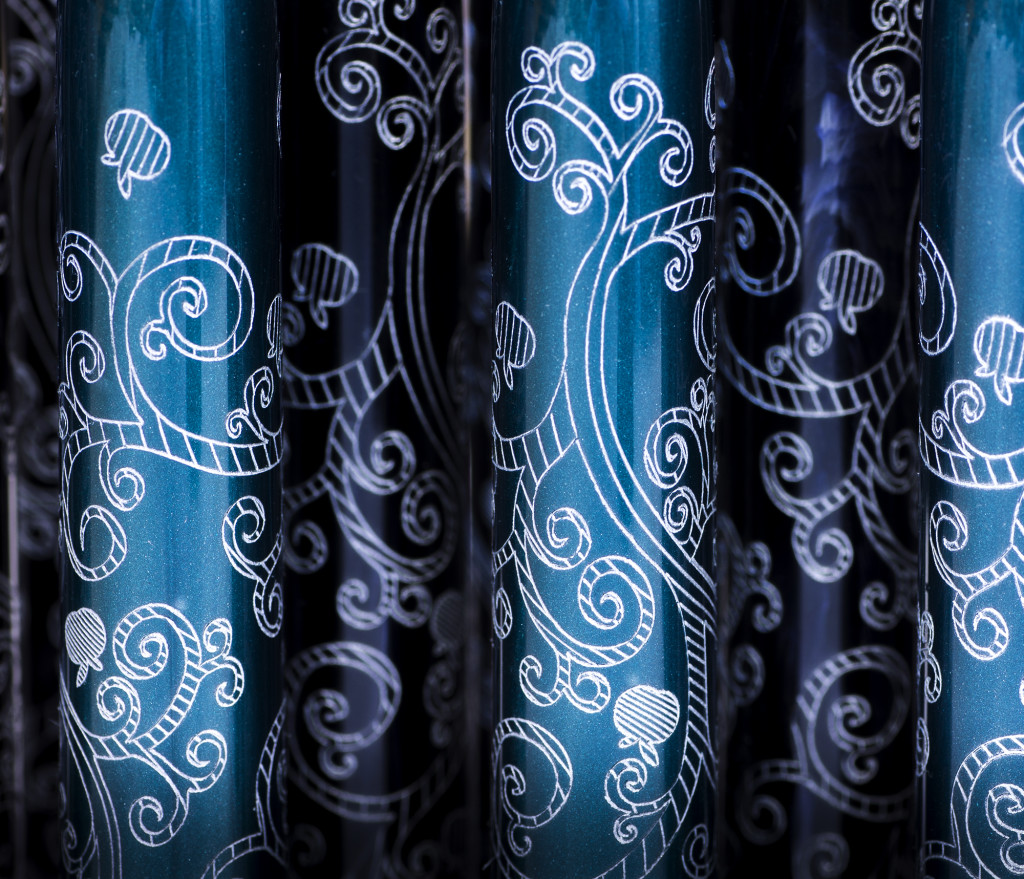 Among the branches of the tree of life winding around the pen's barrel is a hidden snake. Surprisingly, only 44% of the people who bought the pen found it. What about taking a closer look at the pen? We know that some of you have been looking very hard – and even had the kids looking for the snake. We are sure that your quest will be rewarded.
If you find the snake, just let us know… there might be more perks waiting for you!
The Scrimshaw technique conquers all
Garden of Eden has been decorated with a rare engraving technique – the Scrimshaw technique. We wanted to hear from you – connoisseurs and amateurs alike – if the Garden of Eden seems a special pen or if the decoration left you unimpressed.

We are very glad to know that even people who are not experts in the field, realised that it is something pretty special: "I did not know which technique was used, however I could tell right away it was excellent craftsmanship, beginning with the idea and the design to the actual execution of it on the material."
According to 56% of our customers, this technique gives a superb feeling, both in seeing the pen and in touching it.
In some cases, the Scrimshaw technique was the reason for buying the pen – which is quite flattering.
78% of users confirm that the pen is very pleasant to the touch.
A playground for ink-a-holics
Among the customers who purchased the fountain pen – the big majority – only a small number of collectors never actually used the pen or even put ink in it. Effective users had fun, instead, experimenting with writing by using different inks and nibs.
It also seems that the owners of the black pen prefer to stick with classical ink hues – black or sepia -; who bought the teal version, instead, tried to match the color of the pen with different ink colors and nuances, such as sapphire, aquamarine and lavender purple.
One feedback well summarises the most widespread use of the pen: "I use many different inks, depending on the pen I will use, the color I want and what I am going to use the pen for."
Writing with Garden of Eden feels like…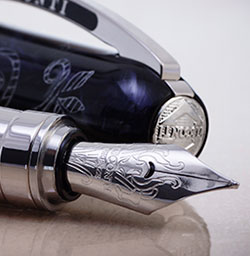 "Perfect." – Nello
"Even if I didn't fill it, I tried the "Souple" nib and I had an excellent feeling, smooth and pleasant." – Antonino
"Very pleasant, soft and precise writing." – Cristiano
"I bought the stub and have found it to be very smooth and usable. It is a very comfortable and trouble free pen to write with." – David
Garden of Eden according to you
"Not a single fault." – Davide
"The fountain pen is fabolous!" – Fabrizia
"I love it!"
"I bought both the roller and fountain pen. I thank Giardino's staff for the choice of the serial number of the pens" – Cristiano
"I find it one of the best pens I have. It's comfortable, beautiful, elegant, peculiar and it has an excellent price." – Alice
"I've been thrilled with all of my purchases through giardino.it – Susanna is a wonderful person!" – Adam
"Highly recommend this one! Wish it came in more colours, the price is very very reasonable and I would definitely get another!" – Shauna
"I believe that you shall issue more of such special editions as they provide new level of variety in world of fountain pens." – Marcin
"I like the pen, it is something special!"
Need we say more? I think our customers have said it all… Check out our website to see if your favourite Garden of Eden is still available!
.