A thin shell of fine marble turns a fountain pen into a roller pen and viceversa: that's Millionaire by Visconti, the first pen that goes through a metamorphosis thanks to its marble casing. No other pen allows you to slip off its core and completely change its style of writing.
Visconti Millionaire is a limited series available in four versions, now on sale from Giardino Italiano.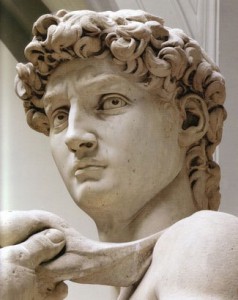 "The marble not yet carved can hold the form of every thought the greatest artist has."
Michelangelo
Marble, the flowing solid
Marble, a stone used in art and an icon of elegance, derives its name from ancient Greek μάρμαρον (mármaron), meaning "shining stone". In spite of being known for its coldness and stillness, marble looks like a flowing solid when carved into lithe lines, so much so that it seems to bring objects to life.
As Augustus turned Rome from brick to marble to make it the Capital of the Empire, so Michelangelo turned the rough stone into unmatched masterpieces by "freeing their soul from within".
(Photo: David by Michelangelo)
Metamorphosis of a pen
Italian pen maker Visconti applied the same principle to their pens and have created the first pen that is changeable from fountain pen to roller pen and viceversa.
This metamorphosis is possible by unlocking its core from the thin marble casing of the body and substituting piston mechanism, reservoir and nib with a roller tip and its refill. The entire process leaves the style and ergonomics of the pen unchanged.
From marble to writing
This is how marble enters the history of writing for the first time: ground to infinitesimal thickness to form the barrel and cap of the pen from a 3-cm thick slab.

The transformation process uses both craftsmanship and edge technology: marble blocks are selected according to excellent structural features – the marble must not be cracked and the marbling must be evenly parceled to make the pen look uniform; the blocks are then cut into square bars, carved from the inside, reinforced, turned until they reach millesimal thickness and, eventually, polished.
Millionaire's marbles
Millionaire uses four different types of marble: Black & Gold, Verde Issorie Marble, Valencian Cream and Rain Forest Brown.
Portoro black (Black & Gold), also known with the French name Porte d'or, is a valuable type of black marble from Italy, and specifically the area of La Spezia. Due to its color – a deep, shining black with golden veins -, it has been used since ancient times for luxury finishes and fine objects.
Verde Issorie Marble, or Green Marble of the Alps, is a green marble from the Italian region of Valle d'Aosta. It is renowned internationally for outdoor design, especially fountains and mosaics.
Valencian Yellow Cream is also known as the Yellow Marble of Spain. It is used to add a warm and elegant touch to walls and floorings.
Finally, Rain Forest Brown marble comes from Rajasthan, India. Its greenish and brownish veins replicate the patterns of leaves and branches of a forest. Hence, its name and its use in architecture to give an exotic touch to fine finishes.
Visconti Millionaire: luxury in your hand
The result of such expertise and passion is Visconti Millionaire, a pen with optimal weight and comfort in writing for daily use.
Each of the four models of Millionaire was issued in a limited edition of 988, featuring gold- or palladium-plated finishes.
Each version is available in a stand-alone box or in a box including twins made of the same type of marble as the pen. Every box is covered by an international insurance against any type of accidental break. Visconti will fix and change the damaged items for free after minimum deductibles.
If Visconti Millionaire has stolen your heart by its flowing look and elegance, you can buy one now from Giardino.it.