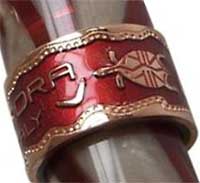 Following Afrika, Asia, Europa and America, Italian pen-makers Aurora close their ideal tour of the world with Oceania. This limited series, dedicated to the 'fifth continent', features red hues to recall sunburnt land and sunsets over Ayers Rock, a ring band bearing aboriginal ancestral symbols, and an outline of Australia engraved in the cap. Oceania is available as a fountain pen, roller pen, ballpoint pen and sketch pen.
You can find them all at Giardino.it.
Dreamtime
Australian aboriginals impute the origins of the world to another dimension, a timeless and spaceless dimension called Dreamtime. Here, the Earth, animals and humankind were created, as well as mythological characters that made humans different from each other. Dreamtime is populated by giant animal-like creatures that are also responsible for shaping the Oceanic continent.
Moreover, Dreamtime is a dimension where both places and human destinies are moulded. This dimension, accessible to everyone, is the place where ties between ancestral spirits and Earth are bred.
That's why stories about Dreamtime cannot be told: they must be sung. And what is known today about this dimension is very little compared to the totality of aboriginal culture.
Oceania, the power of Dreams
These premises being, Oceania by Aurora is a highly evocative tool that allows the interpretation of our psyche in the dreamlike dimension, where  creation happens, and its transfer into the real dimension, thus triggering change.
During this process, the pen is the medium for the dream world to become real. Right in our hand.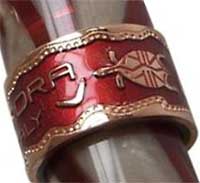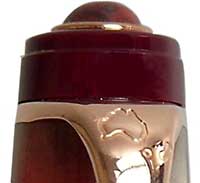 The inspiration you're seeking is within the elegant shape of Oceania, with its red stone mounted on the pen's head and Dreamtime mythical animal symbols represented on its ring band: kangaroo, turtle, lizard, sea shell… desert, myth, ocean.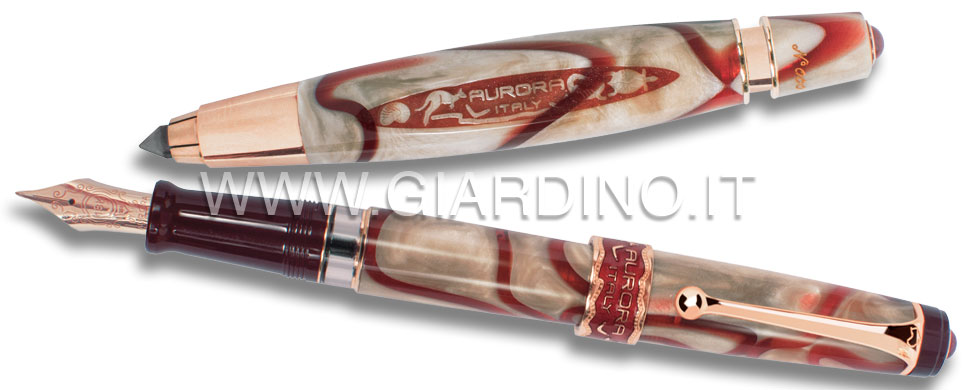 Oceania has been issued in four different versions – fountain pen, roller, ballpoint pen and sketch pen.
Oceania, the fountain pen
Oceania, fountain pen version, stands out for its marbled resin body with pink gold finishings and 18-k solid rose gold nib, available in different calligraphic sizes.
Its filling system is the mechanical piston, with Aurora's exclusive hidden reserve.
Single, gift or foursome box
Oceania's pens are available in a single box or foursome box. The single box features a wooden case whose interiors are in beige leatherette. The sketch pen is also available in a special gift box. The foursome box features a wooden case, as well, with velvet interiors, instead.
Let Dreamtime and Australian aboriginal ancestral calls inspire you… Now you can have your Oceania pen by placing a direct order from Giardino Italiano's website.
.