Inspired by children for children. Merry-go-round for Meyer is Visconti's homage to the Meyer Children's Hospital of Florence, an Italian excellence for the treatment of childhood diseases.
Visconti's Merry-go-round for Meyer pens will support the Meyer's Cancer Department in cooperation with some popular Italian tv characters as testimonials. Among them are Carlo Conti, Fabrizio Frizzi, Antonella Clerici, Daniela Morozzi and Stefano Baragli, who posed in a series of shots displaying Visconti Merry-go-round pens.
You can help the Meyer Children's Hospital with the purchase of a pen of the Visconti Merry-go-round series, now available at Giardino Italiano's on-line shop.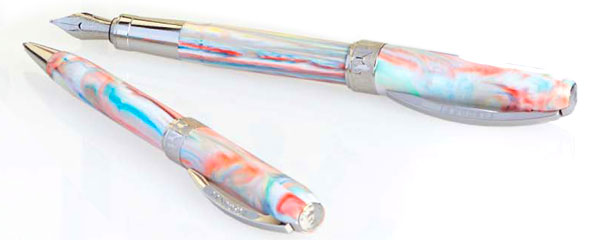 From Florence for Florence
Visconti is one of the best Italian pen manufacturers. The company distinguishes itself by its high-quality products made in Florence, embodying all the artistic and styling features of Tuscany. The expertise and skills of Florence goldsmiths are famous worldwide, and Visconti is an icon of quality and beauty in the art of pen-making.
Similarly, Meyer is one of the best Children's Hospital of Italy, especially for the  molecular diagnosis of  invasive bacterial diseases, and the diagnosis and treatment of pectus excavatum.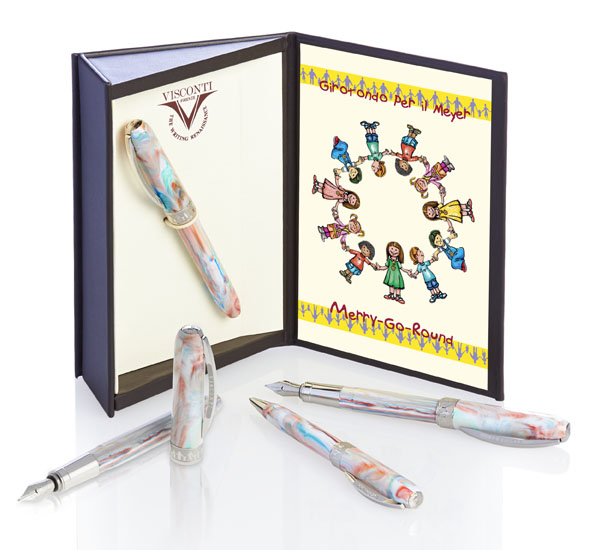 When the charity Ciemmeesse Merry-go-Round for the Meyer NGO asked Visconti for a donation, the company decided to support them by creating a special fountain pen, inspired by children for children.
The design was indeed animated by children's drawings on paper at the hospital, and reflects crayon and marker strokes in a casual mix of resins of different colours: no pen can be equal to another, as the resins are mixed so to create a unique design for each pen.
Because it is made of natural resins and vegetable colours, Visconti Merry-go-Round makes the perfect "first fountain pen" for children, so that the box comes with a "first pen" certificate as a keepsake for every child.
A large part of the profits from the sale of this collection will be donated to the charity for the purchase of important medical equipment and scientific research.
Make your contribution and buy a Visconti Merry-go-round to help paediatric medicine: to do that, you just need to visit Giardino.it and place your order.

A child's smile is surely worth it. Thank you for your help!
The Merry-go-round for Meyer pen is available in Giardino Italiano
 .