Say good-bye to secrecy and deceptiveness of the Water Snake lunar year: on 30th January 2014 the Chinese zodiac has shifted into the Wood Horse* sign, and Montegrappa celebrates the proud and cheerful spirit of Horse people by its new creation, Horse 2014.
This masterpiece in black resin is available as a fountain pen or a roller pen, both issued in two different versions and limited editions.
An ideal gift for those who were born in the years 2014, 2002, 1990, 1978, 1966, 1954, 1942, 1930, 1918 or 1906, Horse 2014 can be found in Giardino Italiano's on-line store.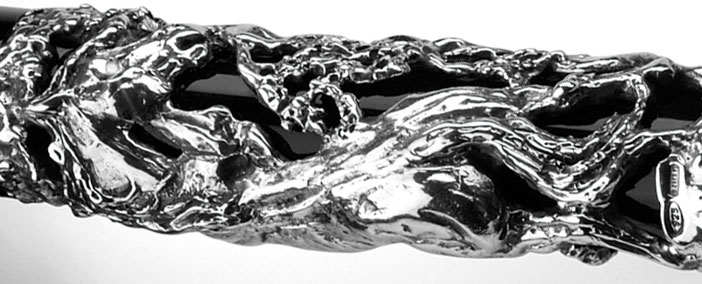 Horse people
People born in Horse years are bright, cheerful, popular, and fun loving. Horse's childish innocence, sunny disposition, and natural charm attract many friends. Highly intuitive, people born in Horse year follow their hunches: when constrained by rules, proud Horse will rebel, refusing to be tamed. Horses will tell you exactly what's in their mind, they are frank and dislike hidden agendas. Their keen judgment and natural intuition often help them make the right decisions throughout their life.
Famous Horse people are Harrison Ford, Paul McCartney, Jakie Chan and Barbra Streisand.
Wood Horse: depth and humanity
Babies born in 2014 are Wood Horse, featuring a deep and humane attitude. This is because Wood, according to Chinese astrology, is believed to make a sign more philosophical as well as compassionate in nature. Wood Horse people have a marked ethical nature, a great sense of integrity and is unlikely to act in a way that would inconvenience or hurt others. Another happy consequence of the influence of Wood is granting a greater stability to the restless Horse nature. That's why the Wood Horse can set long term goals and stick to a plan or regimen much better than other Horses.

Montegrappa Horse 2014 is made in black resin and is available in two different versions: in one, the body is covered with stunning die-cast overlays, shaped like a horse at gallop, in sterling silver or 18K solid gold trim.
The other version features a clip in the shape of a horse's head, instead.
Fountain pens in this version feature ebonite feeder, 18k gold nib and a cartridge/converter filling system.
Both versions are available as a limited edition: 888 fountain pens and 888 rollerball pens in sterling silver. Only 88 fountain pens and 88 rollerball pens are made in 18k solid gold.
All pens are numbered.
Horse 2014 is a gorgeous tool for writing, a symbol of freedom and achievement to celebrate the Chinese year of the Horse, a collector's must – especially if you are Horse people – and it makes a perfect birth gift to celebrate a baby's birth in the year of the Horse.
Go and have yours from Giardino.it.
.
*Due to misleading sources, I mistakingly reported 2014 as the year of Fire Horse. I apologise to the early readers of the feature. 2014 is the year of Wood Horse. The information reported above are now correct.