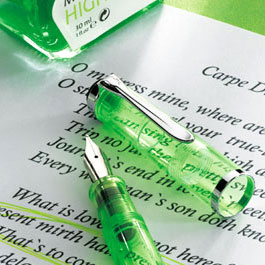 Dedicated to all those still believing fountain pens are no longer a modern and versatile writing tool up to daily study and work, Pelikan hands in 205 Duo Highlighter, a special edition of the Classic series top model coming with a bright green ink, now available at Giardino Italiano's for a limited period of time.
Doc editing get stylish and practical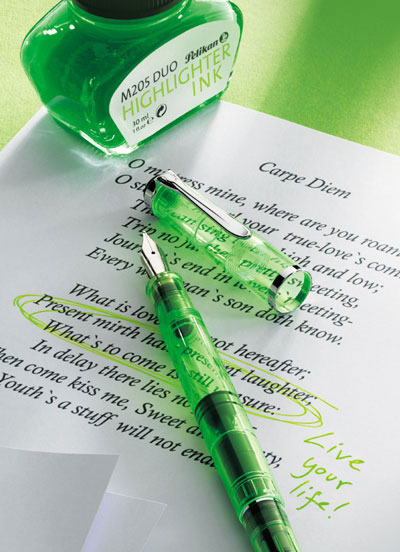 "There is no correction, however marginal or insignificant, which is not worth being done. Of a hundred corrections, every single one can seem petty or pedantic; together, they can determine a new level of the text," Theodor Adorno wrote in his Minima moralia of 1951.
Underlining, polishing the text by deletion, introducing words at the right place, taking margin notes are acts of transformation of the text which many of us carry out daily: be it in a classroom while we listen to someone speaking, be it at the office with our boss and colleagues, the need to add our touch to standardized documents is inherent to human nature.
Nonetheless, to do that we often rely on common tools: a pencil or a fortune pen, a highlighter with its heavy-handed stroke, all combined together. In doing so, we end up creating chaos and cacophony in our page, making a mess and spoiling our reading of its smoothness. Not to consider that the same act of changing tool is also a waste of time and practicality.
From here comes the need of intervening in a tidy way but, at the same time, with a tool comfortable for the hand; a tool allowing a custom stroke: wide and bold for underlying, sharp and polished for margin notes, definite and discreet for corrections… that's possible with the only writing tool allowing stroke variance and freedom of expression for our personal handwriting, that same tool which is often accused to be outdated and unfit for modern needs: the fountain pen.
205 DUO Highlighter Special Edition
Pelikan tried to meet modern people's requirements realizing a special edition from a Classic series top model.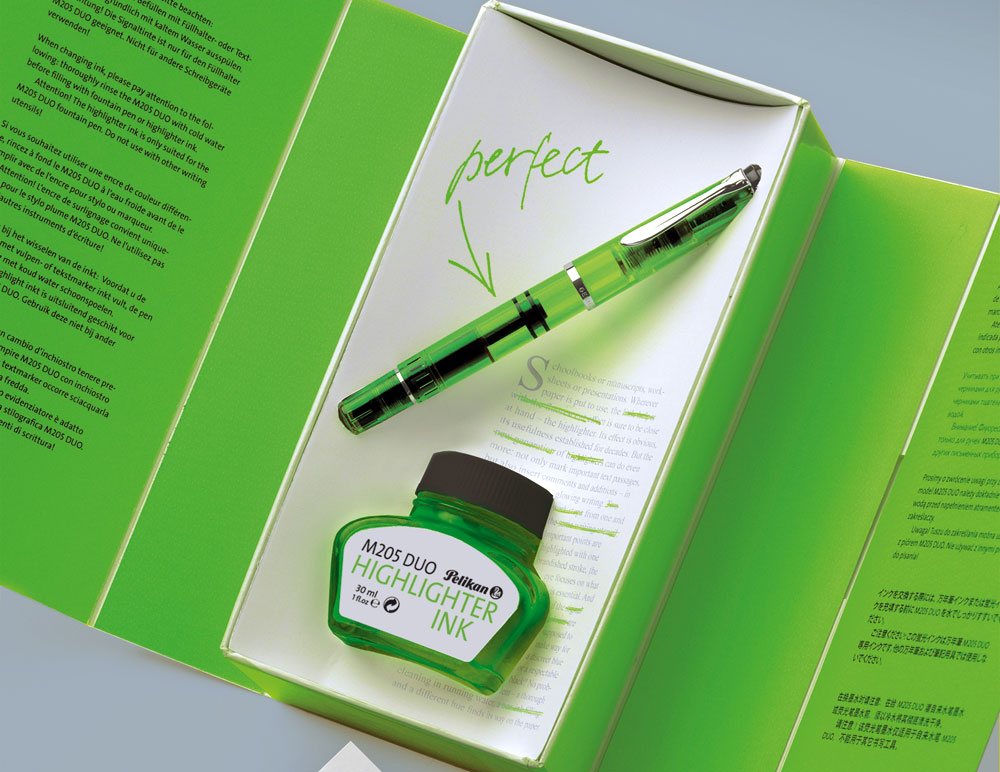 The result is 205 Duo Highlighter, a fountain pen with a double service (hence its name, "Duo"), coming with a bright green ink which can only be used by this pen: Pelikan 205 Duo Highlighter is made in a bright green transparent resin and carries a steel nib featuring an iridium point. Its stroke is a BB extra-broad to allow both handwriting and highlighting without changing writing tool.
That is how Pelikan reinvented the "old-fashioned" fountain pen: this is now a practical – and furthermost useful – solution for everyday work and study.
205 Duo Highlighter has a piston filling system and comes with a 30-ml bottle of special highlighter ink in shiny green. Concluding with Isaak Babel's words in his famous Guy de Maupassant, remember that "No iron can stab the heart with such force as a period put just at the right place."
Simona Gauri
Per Giardino Italiano
www.giardino.it