Solid, the new fountain pen made out of a solid block of titanium by Porsche Design, is now available for sale in Giardino Italiano's on-line shop, with an exclusive offer for its newsletter's subscribers. Also available Techflex, Mikado and Shake, always by Porsche Design.
All the appeal of titanium concentrates here: Solid, the latest creation by Porsche Design, is a fountain pen incredibly milled out of a single piece of solid, precious metal, with no junctions. Because of this extraordinary feature, at only a few days from the launch of Giardino Italiano's offer to its newsletter's readers, on-line orders of the pen have been dropping in, making the campaign already a success.
Solid is the third item of the series of pens by Porsche Design available for sale in Giardino Italiano's website: browsing their webpages, you can also find TecFlex, Mikado and Shake.
A metal named after the Titans
The extraordinary feature of Solid is it has been made out of a single metal block in a prestigious metal: titanium.
Light, resistant, colored in a shining metal white, titanium is renowned for its resistance to corrosion and – because of this – it is largely used in strong yet light alloys. Titanium is resistant as steel, but 40% lighter; it weights 60% more than aluminum but with a doubled strength. These technical features make titanium resilient to normal metal stress, and, also, more difficult to work than other metals.
That's why titanium was named after the Greek mythological characters of the Titans (literally, "making an effort"), first progeny of gods Gea and Uranus. Its name was given by German chemist Heinrich Klaproth, one of the first scientist to sense  the would-be applications of this noble metal.
Solid
Solid shows a progressive pure silhouette, enhanced by the 18 Kt gold nib, which features a high quality rhodium coating to underline its aesthetic and elegance. The icon of the Porsche Design brand is discretely engraved on the surface of the nib, and the shaft is precisely finished with a scratchproof plasma vacuum coating, made of 99.99 percent pure titanium.
This produces a scratchproof surface which is harder than steel.
Its filling mechanism is innovatively concealed in the shaft. Only when gentle pressure is applied to the end of the pen, and the end piece is unscrewed, can the mechanism be removed and the converter filled.
TecFlex, Mikado  and Shake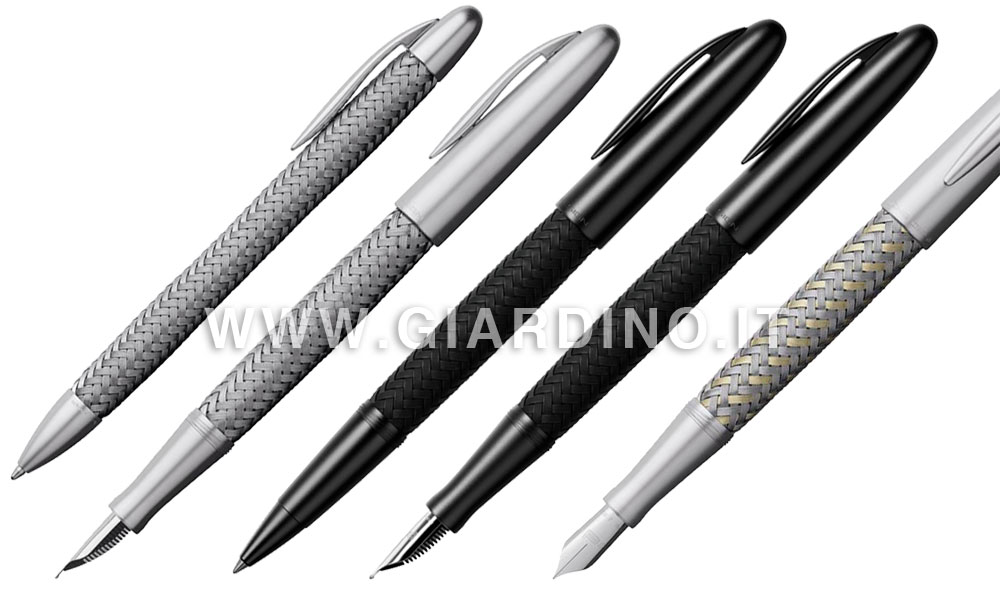 High technology can be found as well in the pens Shake, Mikado  and TecFlex, all available for sale in Giardino Italiano's website:
Shake (on the left) is a ballpoint pen available in different colors and designs, which activates or deactivates the writing mode by a simple wrist movement;
TecFlex (foto above) is a pen whose body's made in an intertwined network of narrow steel strings, making of it a flexible writing tool, capable of adapting to the hand it holds it, yet unbreakable. All models are made in the best style and elegance of Porsche Design.
Also Mikado is flexible, made by 17 fine polished stainless steel rods that twist around the barrel when the mechanism works on and off.
If the unmistakable Porsche Design's style suits you, don't wait any further!
.
Simona Gauri
for Giardino Italiano
www.giardino.it
.