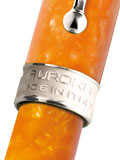 Thanks to a pre-sale system, Giardino Italiano's customers could book their Aurora Mar Ionio, and they are receiving it  in advance, before the Aurora's announced date.
The hot season is approaching and, day by day, the wish to plunge into summer and live its freedom and emotions is growing: relaxing in the fresh shade of maritime pines and enjoying their bright green sprigs, breathing in the air full of fragrant scents carried by a gentle sea breeze, or feeling wrapped into a beautiful sunset which paints the sky with warm and passionate hues of fire…
In the wait for summer and its colors, Giardino Italiano's customers have already met – and bought – a fountain-pen limited series dedicated to Italian Seas by Aurora: after Mar Ligure, whose tints remind the depths of water, and Mar Tirreno, colored in the shades of green, some days ago a third series was added. It's Mar Ionio, a pen inspired to the warmth of sunbeams when reflected upon water.
Available in a very small number (only 480 worldwide), Mar Ionio has been appreciated by Giardino Italiano's customers thanks to a special pre-sale offer allowing clients to book the fountain pen with a 40-euro deposit and granting a 80-euro discount on the order when Mar Ionio would become available for shipment.
Hard to say no to such an advantageous offer… even more when the prize has increased in the meanwhile: Mar Ionio, whose availability was scheduled half June, is already available for delivery and will be shipped in hours to the adherents of Giardino Italiano's pre-sale offer.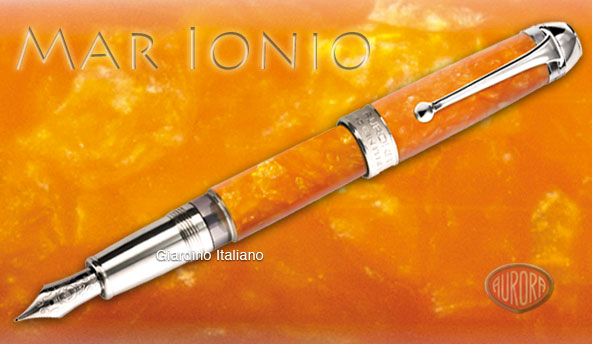 Now, the invitation for those who haven't booked the pen so far is to hurry. Once pre-sale orders are shipped, only a very small number of pens will still be available for sale in Giardino Italiano's on-line shop. That could be your last chance to get this wonderful pen bringing the feelings of summer in your hands…
 .
Simona Gauri
per Giardino Italiano
www.giardino.it
.