Brain, a new pen series as a homage to neurology and neuroscience by prestigious Italian brand Montegrappa, is now on sale in its 6 limited-edition roller and fountain pens: created by the cooperation of doctor Richard Restak and Montegrappa's designers and craftsmen, Brain is the perfect synthesis of art and science. 
"We are shaped by our thoughts; we become what we think," the Buddha said. Philosophy's challenge to Science has a long history, although the two disciplines, lately, are more and more converging into each other. That's why we are assisting today to a renowned interest in neurology and neurosciences.
This interest is confirmed by a series of international events, conferences and meetings starting from the beginning of the year and going on until the end of 2013, placing the human brain at the center of debates along with its wonderful physical structure and its mysterious way of working. Through the synapsis, our brain enables the mind to absorb knowledge and transform it into something completely new, create things or concept ideas not yet conceived, dream, communicate, shape entire new worlds…
Human brain at the center of scientific debate
After the Neuroscience Olympics – started on March 9th, 2013 and ending next April 21st – in Trento (Italy), human brain will be again at the center of scientific debate in Wien (Austria), from September 21st to September 26th, at the World Congress of Neurology; in Milan (Italy), from November 2nd to November 5th, at the 64th Congress of the Neurology Italian Society; and, again, in San Diego (California, US), from November 9th to November 13th, at Neuroscience 2013 – just to list some of the capital events scheduled in 2013.
When science and art melt into each other
In this climate of fuzzy discovery and renowned interest in neurological studies, a homage creation transposing science into art has just appeared: that's Montegrappa Brain, a pen created by the cooperation of prestigious made-in-Italy brand Montegrappa with doctor Richard Restak, an international praised scientist in the neurology field.
Clinical Professor of Neurology at the George Washington University School of Medicine and Health Sciences, affiliated with Mount Sinai Hospital, Georgetown University Hospital and George Washington Hospital, doctor Restak offered his knowledge to Montegrappa's designers and craftsmen to produce a pen inspired to human brain and its complexity.

Montegrappa Brain
The result is a pen emblematic in its contrast of its basic structural elements: the top part of the pen is rich and elaborate, with a cap featuring an overlay made up of neurons connecting to each other to represent synaptic activity, while the pen's body is smooth and simple, to represent human body.
The cap's top is adorned with a drawing representing a cross-section of the brain, based on an ancient illustration, ending in a pocket clip shaped like a spinal cord.
Etched into the nib is the image of a sea-horse, scientifically known as the hippocampus, one of the most important parts of human's and other vertebrate's brain.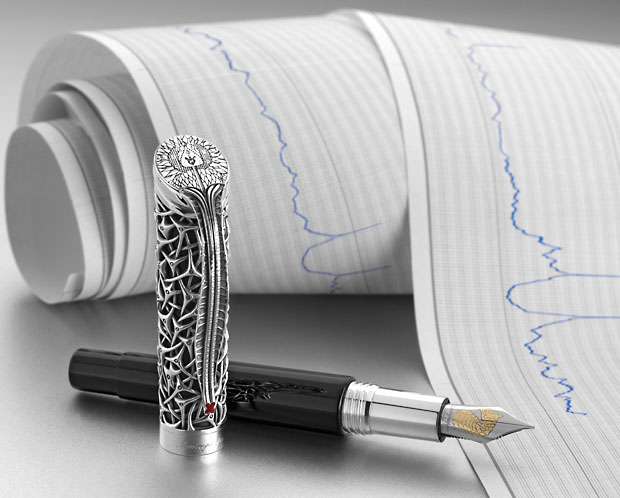 Montegrappa Brain was realized in a limited edition, differentiating in 6 different series: 2012 silver fountain pens (as the neurons in the brain, whose number is estimated to be between 10¹² and 10¹³), 900 silver roller pens (as the number of neurotransmitter – messenger – molecules released by a single synaptic vesicle), 50 solid 18K gold fountain pens (as the diameter of a synaptic vesicle is 50 nanometers), 50 solid 18K gold roller pens, 12 solid 18K gold with diamonds (as the 12 cranial nerves) and 6 solid 18K gold roller pens with diamonds (as the 6 cortical layers).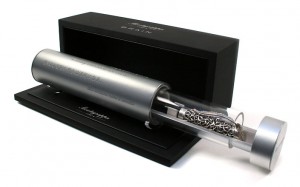 Roller and fountain pens can be distinguished by their different color in the clip's tip, lacquered in black for roller pens and lacquered in red for fountain pens. Each model is equipped with a spring-loaded mechanism in the clip.
Every Brain pen comes with a copy of doctor Restak's book, specifically written for Montegrappa, and a futuristic box shaped as a capsule.
"Take up one idea. Make that one idea your life – think of it, dream of it, live on that idea. Let the brain, muscles, nerves, every part of your body, be full of that idea, and just leave every other idea alone. This is the way to success".
[Swami Vivekananda]
Montegrappa Brain is up for sale in Giardino Italiano website, with prices and descriptions.
.
Simona Gauri (journalist, freelance)
for Giardino Italiano
.