Visconti was selected to produce the official commemorative pen of 60th Anniversary of the reign of Her Majesty Elizabeth II, Queen of the United Kingdom and the 175 th anniversary of the Army & Navy Club.
A unique opportunity for Visconti and its customers to attend these events of historical relevance.

Hard to find words to celebrate an anniversary as important as the Jubilee of Elizabeth II.
Important for the length of the reign – 60 years! Few monarchs have reigned so long; in modern times only the Emperor Hirohito and Prince Rainier III of Monaco have ruled their own country for similar durations – but with an illustrious precedent: the United Kingdom had been ruled for over 63 years by Queen Victoria.
Important for the prominence of the Country and the reputation of the person. Elizabeth II is likely considered the greatest contemporary sovereign.
Nearly to pass unnoticed, the 175 th anniversary of the famous Army & Navy Club – also known as "The Rag" – established, incidentally, the same year that Queen Victoria ascended the throne.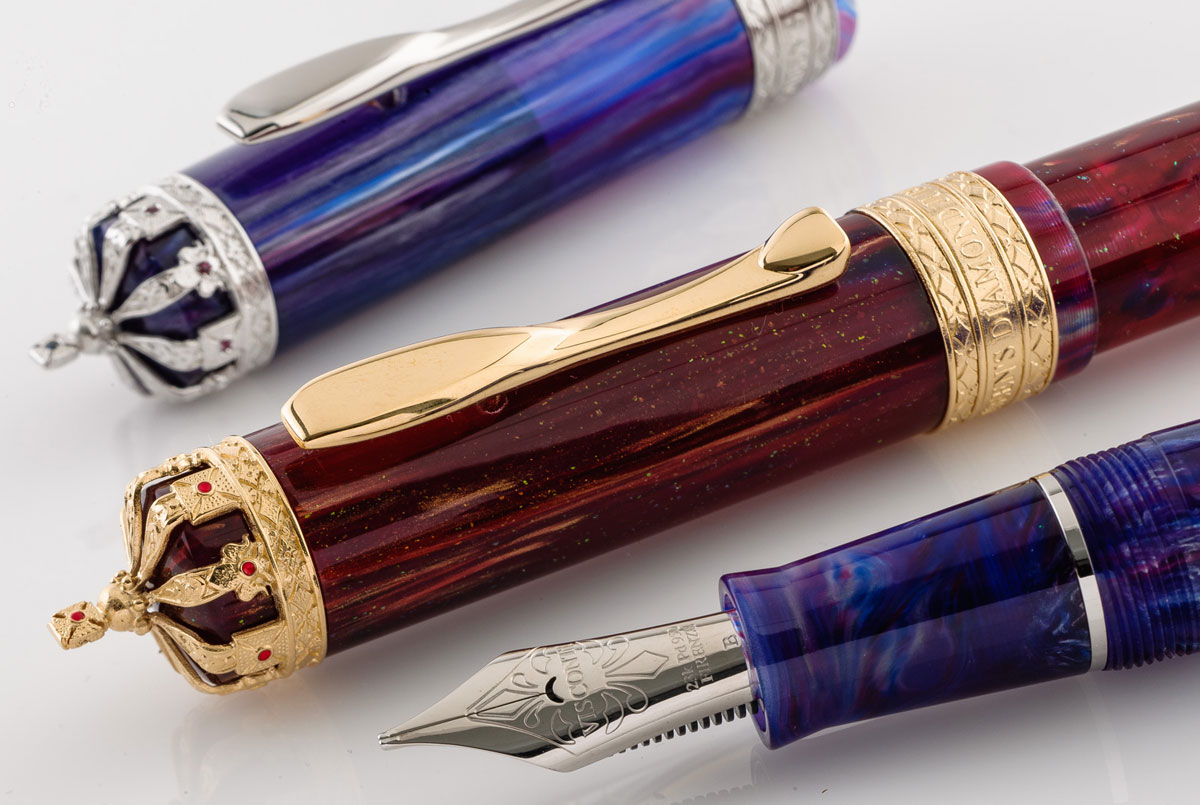 For all of us who cannot access celebrations, scheduled for next June in London – but also for those lucky guys who will get access to the celebrations – Visconti gives the opportunity to  indirectly attend the event with a new collection of pens: The Diamond Jubilee.
The collection consists of two LE fountain pens of 600 pieces each, with metal trims coordinated with the color of the pen:
platinum plated for the Royal Purple
plated with gold for the Imperial Ruby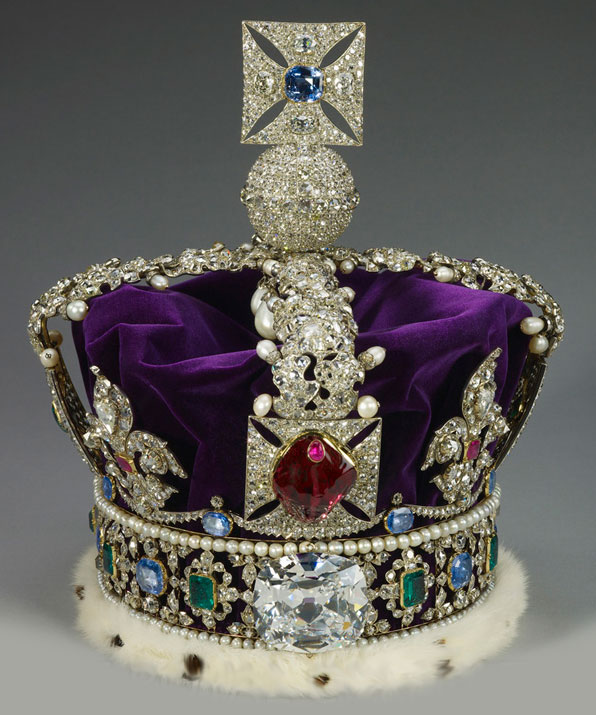 Both pens are "crowned" by a reproduction of the Imperial State Crown, made in 1937 for King George VI, similar to the Queen Victoria's diamond crown. The present Crown is made of gold and includes four crosses pattée and four fleurs-de-lis, with two arches on top, enriched by many jewels: 2,868 diamonds, 273 pearls, 17 sapphires, 11 emeralds, and five rubies.
Its violet velvet certainly inspired the color of "Royal Purple" pen, made in purplish blue resin, very variegated, with pale blue and violet shades; while the huge central ruby  inspired the "Imperial Ruby" color, a deep but intense red, sprinkled by golden and red streaks.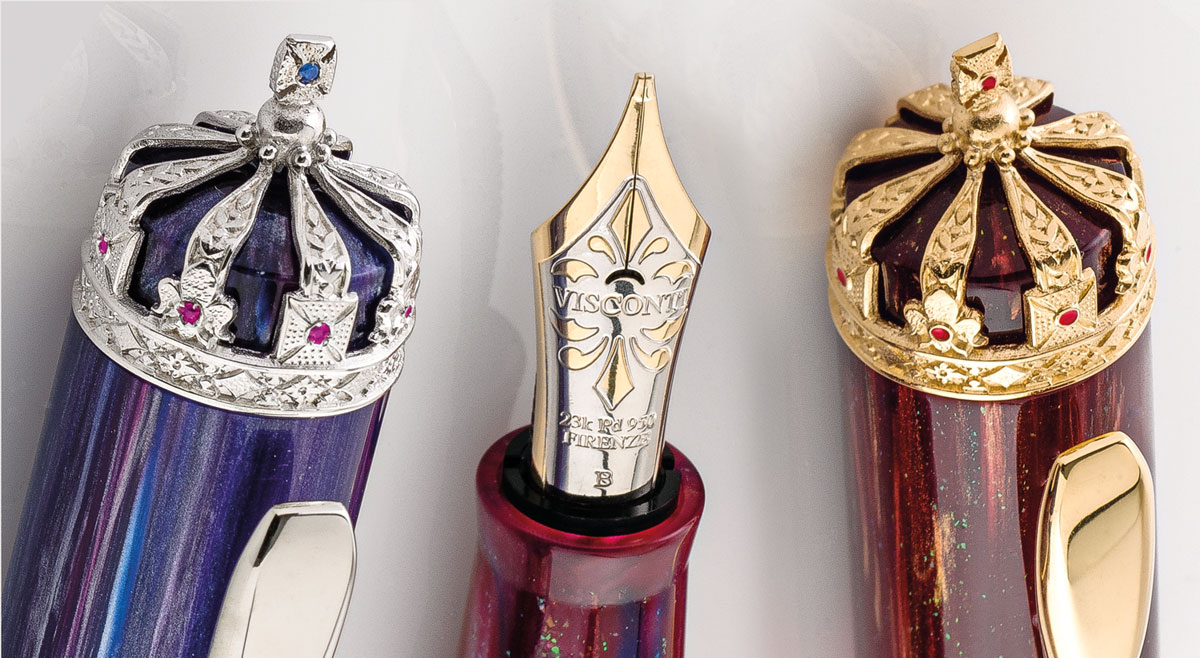 Fountain pens mount the famous  23 kt palladium Dreamtouch nib. The filling system is the classic piston filler.
Two not limited rollerballs – available in the same finishes and colors of pens – complete the collection. The roller may be supplied -on request with the matching pen and packaged in a precious box with a plaque commemorating the event.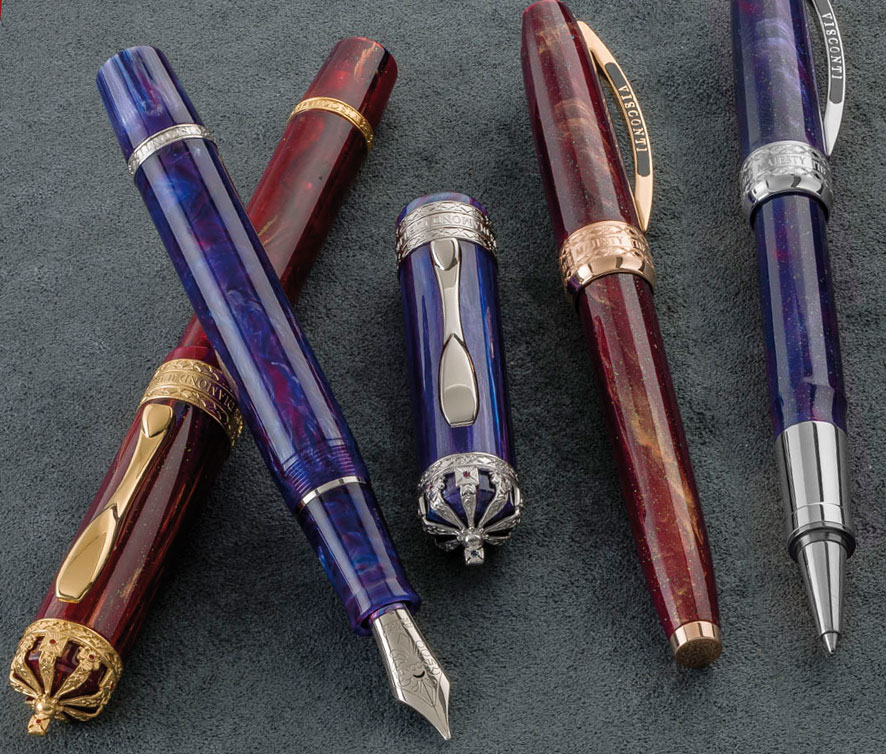 Ask for price.
The pens can be booked in Giardino Italiano's website for delivery in next May.
.
Susanna
Giardino Italiano