Love sprung from hate, feelings elevated to a sublime passion set in the enchanting city of Verona, Italy. "Romeo & Juliet" by Shakespeare excited and moved the whole world, as there's no tiny corner on our planet where the story is untold.
To celebrate romantic writing and love, Delta dedicated a pen entitled to the two Italian lovers, whose romantic feelings have been made popular by the verses of the great poet: Romeo & Juliet Forever.
Romeo e Juliet: the ever most tragic happy ending
The Capulets and the Montagues, two families from the Italian city of Verona, had been fighting for years, from generation to generation. Until their two youngest offsprings, fallen in love with each other, killed themselves to finally be together until the end of time. This is one of the most tragic happy ending in literature.
Shakespeare, in his verses, elevates death to beauty, disembodiment to osmosis between souls and earthly elements. Death has never celebrated life so much.
Yet, this story was not his own's: the Capulets and the Montagues were already mentioned by Dante in some of his verses in the Divine Comedy. Here we learn the Montagues were inbred in Verona, while the Capulets moved from the neighbour town of Brescia to the house hosting the famous balcony of Juliet. This is also proved by the coat-of-arms placed over the keystone of its courtyard's entrance arch. Arches are also carved in the balcony of the young lady, a symbol of  dreamy waits, whispered love words and secret meetings between the two lovers. No historical evidence suggests of a feud between the two families, though. They were, instead, "hollow" people – as Dante hinted them -, busy in their own social enmities. The story as we know it emerged in different times by Italian minor poets first, and was later retold by poet and translator Arthur Brook.
The great merit of William Shakespeare was that of summarising the events of this story in a very short time, and to lift it up to such levels of beauty to make it unforgettable.
A pen celebrating Love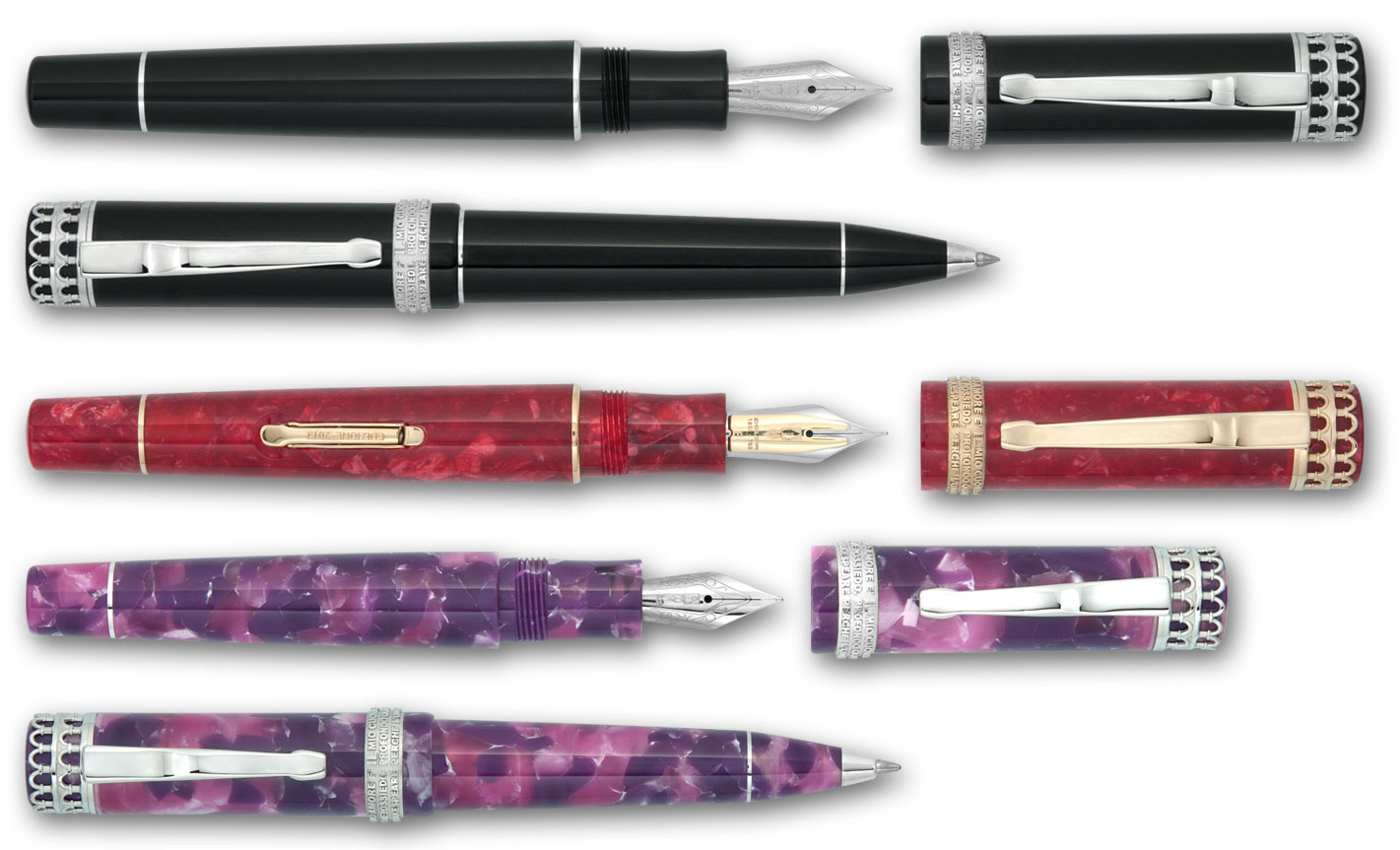 Today, all the features representing this love story can be found in Delta Romeo & Juliet Forever, a pen issued in two medium sizes – one in red and the other in black – and a mini size – in marbled violet -, all of them rhodium plated.
Several recalls to Shakespeare's story unequivocally distinguish this pen. First of all, its cap features a little crown shaped in tiny arches on its top, with a clear reference to the city of Verona – its Romanic architecture represented by the arena – and, more in particular, to Juliet's balcony.
Yet, this is not enough: the secrecy of love is kept by a small secret compartment, hidden inside the pen's cap. Its head can be removed, unfolding a container with two metal pendants shaped in little hearts, where you can apply engravings.
Finally, the pen features a central seal-like band ring bearing a bas-relief: that's one of the most beautiful quotes of Shakespeare's writing: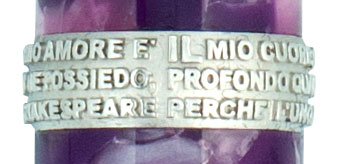 "My bounty is
as boundless as the sea,
My love as deep;
the more I give to thee,
The more I have,
for both are infinite." 
Juliet, Act II, Scene 2
The pen thus becomes a small secrets' chest, taking care of love thoughts and messages, words, paper and ink – a whole. A tool, a medium, a message in a complete symbiosis, exactly like the two lovers's feelings towards each other.
To find out more details and view all the available models of Romeo & Juliet Forever by Delta, visit Giardino Italiano's website.
.