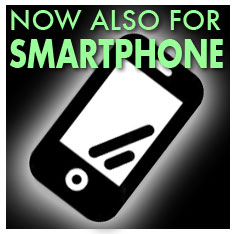 For all those who want to be always informed about novelties,  news, offers from the Italian style of  Giardino.it, it's now available a very handy and practical version of the website, specifically lightened for iPhones and smartphones.
New technologies in the last years are betting on devices with easy, fast and functional connectivity, and we also know that many of our customers use iPhones, iPads, tablet and smartphones in general.
Trend is growing faster, as sector's experts tell, and as we can see in our statistics in the latest months.
Starting from this consideration, we developed the new mobile interface, which let you browse, read and buy in our site easily and quickly, though the new cleaner and faster graphic look, directly from your mobile whenever you want.
.
.
What's the difference:
Like the traditional one, the new interface  let you see all section with just a few touches: pens, watches, leather, bijoux and accessories; still neat and beautiful pictures, btw.
The products' pages have been cut and streamlined: just one or two photos, a short description, and prices. Nothing else, for not weighting down the navigation.
All registered customers can obviously login just like they used to do in the PC site; and can deduct their discounts and use promotion wherever they are.
You can really say that  "il meglio del made in Italy" (the best of Italy) is at your reach!
Giardino Italiano sells Italian products through Internet since 1996: fountain pens, leather goods, watches, jewels and accessories.
.
Tommaso Locatelli De Maestri
Giardino Italiano