The Mix of innovative (titanium, carbon fiber, plexiglass) and traditional (celluloid, rhodium) materials, research of new shapes and blends, expressing Delta's creativity with Momo Design spirit.
This pen is beautiful. It was made for the 30th anniversary of Momo Design foundation, but it also celebrates 10 years from the first Delta pen made in carbon fiber, specially realized for Momo Design.
The orange celluloid immediately identifies the producer: no doubts, Delta=orange, even if all details are different from what you know of other Delta pens.
The pen is cylinder shaped, straight without any rounded hint but at the cap top, which is very slightly bulging, reminding me of a pedestal of a Greek column.
Orange celluloid is alternate to carbon fiber sections, which seems protected by a transparent shell. This solution gives a special deepness effect to the pen (difficult to show in photos) and emphasizes the fiber texture.
All trims are in satin rhodium plated metal (not the central ring, with Momo Design logo, made in satin sterling silver), which pleasantly contrasts with the other extra-polished materials.
The hand carved metal "cage", at the middle of the cap, is made of metal rings over a clear resin body, and let you see the nib inside with a "now I see – now I don't" nice effect; the linear and massive clip is more ready than you expected, thanks to the spring above.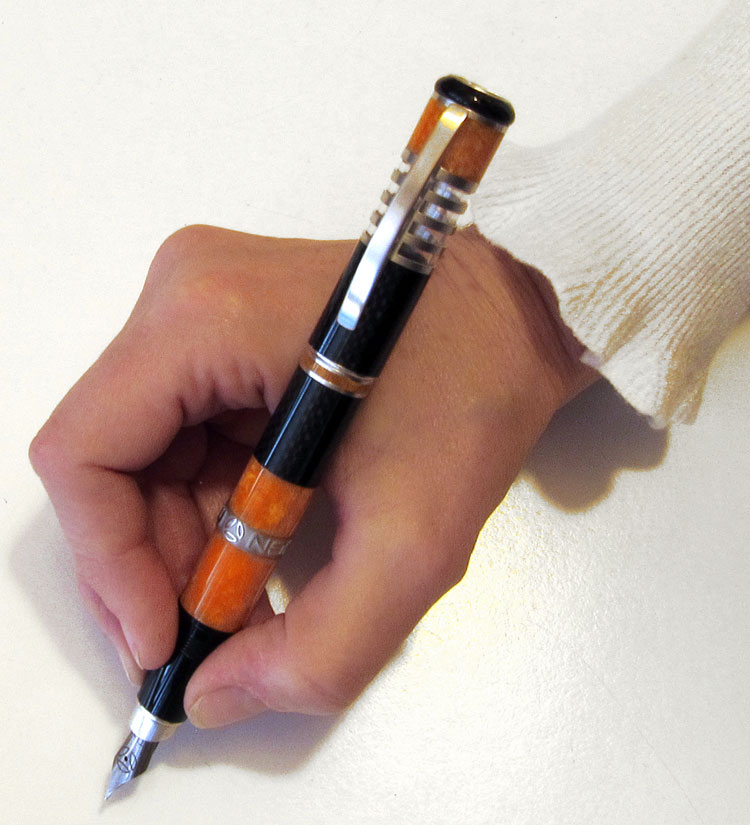 The cap unscrews and screws on the back, perfectly extending the cylinder and continuing the alternate orange and black in this place too.
The dark titanium nib seems smaller and gracefully shaped, maybe due to the oval covering section that envelops it for approx a third of its length. It's very elastic and flexible – it reminds me of the Stipula's T-Flex feeling – and is personalized with MomoDesign logo.
Beautiful box too, all black with mirrored print of MomoDesign logo; the two lateral screws for opening, typical of Delta boxes, as personalized as well with Momo mark.
The outside cardboard box and jacket complete the total black look with silver writings.
.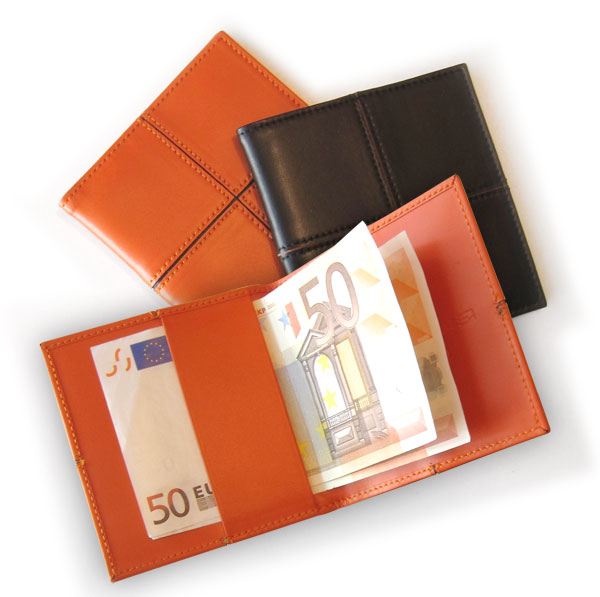 Buying a Momo Design pen – until the end of March – this beautiful bill holder, made in genuine Italian leather by Delta/Markiaro, comes for free – kindly offered by Delta only to our customers!
Learn how to get it >>>
.
Susanna
Giardino Italiano