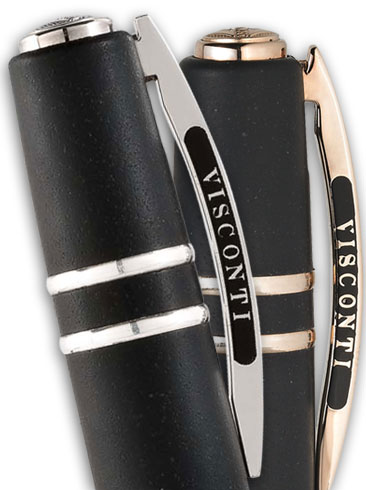 Visconti opens year 2012 by expanding its range with a new version of the Homo Sapiens and a calligraphic set based on the Rembrandt
The new HS Steel differs from its predecessor – a best seller – for steel trims (those of the earlier version are made of bronze) which deck the "volcanic" body of the pen.
The body material remains unchanged from the earlier version: a mixture of polymers and basalt with great ergonomics and grip, shock resistant and fire-retardant.
The new range of Homo Sapiens is wider than its predecessor; a medium size model joins the classic fountain pen, which is now called Oversize. The new model features a new smaller palladium Dreamtouch nib and the classic piston filler, instead of the double reservoir filling system, used for the Oversize version and for the Bronze version.
Rumors are circulating that the little 14 kt gold nib will be discontinued and will most likely be replaced by this 23 kt palladium type – with a price adjustment, unfortunately.
It 's also coming a new price list, with increases on Homo Sapiens Bronze: it will be in force by March.
Whether you already own a Homo Sapiens or that have not yet tried his unparalleled writing comfort, you now can immediately enrich your collection with a new Homo Sapiens Steel (or take advantage of the current price for the Homo Sapiens Bronze, before it increases).

Technical Characteristics
NEW Homo Sapiens Steel
Collection: Oversize fountain pen, Medium fountain pen, roller ball, ballpoint and pencil
Material: Basaltic Lava from the Etna Volcano
Nib: 23 kt Palladium Dreamtouch nib
Filling System: High Vacuum Power Filler™ for Oversize fountain pen or
Piston Filler for Medium size fountain pen
And if your passion is calligraphy, you'll be amazed by the new Visconti Rembrandt Calligraphy Set. The set is equipped with special nibs to exercise in the art of fine lettering.
Inside the box – which is shaped to accommodate all the tools – there is a pen of Rembrandt series, which can be – at your choice – a fountain pen with normal M nib or a rollergraphic with cartridge.
(It's the red pen that you see in the picture: of course the color of your choice)
In addition,  two nib-groups with converter (to be replaced very easily inside the pen), equipped with special nibs: a steel extra-flexible EF, to be used for the English Script, and a hard, very large stub (1.5) indicated for the Gothic.
These special nibs, made specifically for this set, are neither purchasable separately nor mounted on a normal Rembrandt.
The equipment is completed by a Visconti bottle of ink, a special set of Visconti blotters (absorbent on one side and plastic on the other, not to get dirty) and a book of "instructions" with examples of lettering to be copied to practice.
Those two black buttons that you see in the picture, at the bottom edges of the box, are two desk-pen holders, which magnetically hold the pen between one exercise and another, not to dry the ink in the nib.
Brilliant idea, nice packaging and low-cost: it will be definitely a great success!
Susanna
Giardino Italiano