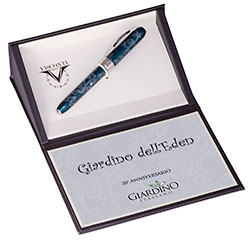 When Giardino Italiano turned 20 (20 years of online sales), Visconti made a special pen for us; a Limited Edition in 100 pieces to celebrate the anniversary, the first one in the world for pens' webshops.
Also because our very first pen sold online was actually a Visconti, therefore it was an obvious choice.
In these monts, everybody liked it, and it has been a best-seller, for a series of reason – in my opinion – that I'm trying to list here below.