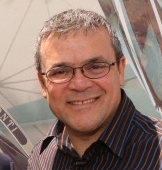 Dante Del Vecchio is leaving Visconti.
Incredible, but true.
He sent a note yesterday, announcing that he's leaving the direction and chairmanship of Visconti by the end of the year, due to internal conflicts with his business partner.
.
.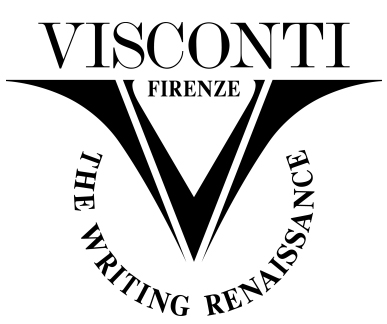 I never could imagine that this could ever happen. Never ever.
That Dante Del Vecchio, founder, driving force and soul of Visconti, could leave.
I just talked with him, and my consternation is equal only to my sorrow, after so many years of contacts, work, arguments and collaborations. And friendship.
The very first product I sold online, through Giardino Italiano, 20 years ago, was a Visconti (a Pontevecchio, specifically).



After all, I had in my catalogue only a few Visconti pens and little more. In 1996, almost nobody in Italy knew anything about the internet yet, and Dante was the one who trusted my new business. (I must say that my brother-in-law was his salesman in Milano at that time, and perhaps this forced him to agree; but I think that he never regret it – I hope, at least!)
In 1996, no other fountain pens but Visconti were for sale on the internet; no web-shops yet, no company's websites. Visconti was present, instead, in Giardino Italiano's website.
Therefore, we could say that the first pen in the world bought in a web-shop is a Visconti.
(And this is one of the reasons that pushed me to let Visconti make the celebration pen for my 20th anniversary of online sales: the Giardino dell'Eden)


Experimentation
This foresight, or curiosity for the new, or experimental desire, joined to a great passion, is Dante's feature, and we can see it in the history of the company's production, starting from 1988, when he founded the company from nothing.
Research of particular, niche or forgotten techniques (like the etching Scrimshaw technique), studies about unusual materials (from celluloid, that was retrieved from oblivion in the '80s; to the volcano lava, treated to be pleasant to touch, unbreakable and hygroscopic; to marble, very thinly turned).
Events: the Visconti pens have been used by President Obama for the official signatures in G8, for the wedding of Prince Albert of Monaco, for the celebrations of 60 years of the reign of Queen Elisabeth, for the signatures of Nato-Russia agreements in 2002.
In all, a great passion made it possible.
Patents
The quantity of brilliant innovations that Dante Del Vecchio patented for Visconti is impressive.
From the filling system, double reservoir Vacuum Filler, to the travel inkpot, made in the '90s, for easing the life of fountain pens' users and let them carry during travels and flights with no risks.
The Opera section, not square nor round, that in fact was publicised as the "squaring the circle".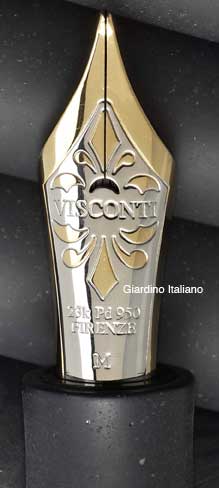 The Dreamtouch nib, made in palladium 23 kt, to give better performances in flexibility and memory than a normal nib at an affordable price, when the gold price raised so much to be unreachable to most people.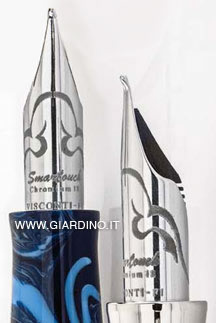 The Smartouch tubular nib, thought for those who leave the pen open and dry, but also for who are accustomed to ballpens and want to write in vertical also with fountain pen. (With this nib, they can: it writes the same).
The study for the Divine Proportion: the perfect pen, based on the Gold Proportion sizes in all parts (diameter, cap, ratio of the spiral that rolls up the pen body).

And now, I'm wondering what will happen from now on. For a while, nothing will change, of course; existing projects will be made, the pens will be produced, distributed and sold.
We'll see in years. Maybe Dante will launch some other successful venture, or maybe he will return back. We all remember the history of Apple and Steve Jobs, don't we?
.
Susanna Buffo
Giardino Italiano
.