Since the very beginning, Giardino Italiano has always cared for its customers. We welcome the new ones into our family, without taking for granted the ones that have been with us so far.
We have designed saving opportunities for all of you, and the more you buy, the more you save.
"Nothing is more noble, nothing more venerable than fidelity."
Marcus Tullius Cicero
Not only do we offer sales on the single product – available to all customers – but we also reward our most loyal customers.
Here are our two rewarding formulas:
Fidelity Discount
Gold Club
What do I have to do to get a Fidelity or Gold Club Discount?
At Giardino Italiano's we know how to pamper our customers and we try to entice them to stay with us by making their life a little bit easier, purchase after purchase. All you have to do is to access our website with the same credentials as your first purchase and… buy!
We take care of all the rest.
Fidelity Discount

Fidelity Discount is our first gift to returning customers… starting from your second purchase!
Almost all products sold through Giardino's website are eligible for the Fidelity Discount on your next order – all, with the exception of those which are already super-discounted. Fidelity Discount is typically 10%.
This means that if you buy now a pen at 100€, your next order will automatically be discounted by 10€. And each subsequent order will be discounted again by 10%… and so on. The only thing you must remember is to log into your account before you order, so the system will recognise you and apply the discount you have earned with the last purchase.
Let's talk numbers…
Today, you buy a Garden of Eden fountain pen at 240€.
You have just paid 240 €, and you have already earned a Fidelity Discount of  24€ on your next order.

Your pen arrives on time and when you see it, you immediately think "Wonderful! I want to match it with the roller pen!" 
The roller pen costs 218 €. However, you will pay only 194 € for it, because your new order will have been discounted by 24€ thanks to your Fidelity Discount.

And the amazing thing is that, the purchase of your roller – which had already been discounted – will earn you another Fidelity Discount of 19,40 € – 10% of the amount paid for the roller, which will be discounted on your third order with us. And so on.
How do we apply the Fidelity Discount?
Fidelity Discount is valid for 12 months: this means that the discount will sit in your account for 12 months waiting for your next purchase.
Fidelity Discount applies to almost all products and services offered by Giardino Italiano: this means that you won't have to buy another pen. You can choose a piece of jewellery, a wrist watch, a leather wallet… or even an overnight stay in Milan at GiardinoBlu's (if you want to know more about this offer, read here how it works).  
There is no minimum amount for the order. If the value of the Fidelity Discount covers the entire amount of your next order, the discount will be applied anyway.
Gold Club

Our Gold Club is a group of special customers who enjoy exclusive privileges at Giardino Italiano's. Every customer is eligible to become a member of the Gold Club.  To thank our Gold customers for their appreciation of our products and services, Giardino Italiano offers them:
An exclusive price for our products
Priority over Giardino Italiano's offers
How do I become a Gold customer?
You can become a Gold customer if:
You place at least 3 orders per year for a total value of 800 € (excluding discounts and shipping costs).
It's easier than you thought to become a Gold customer.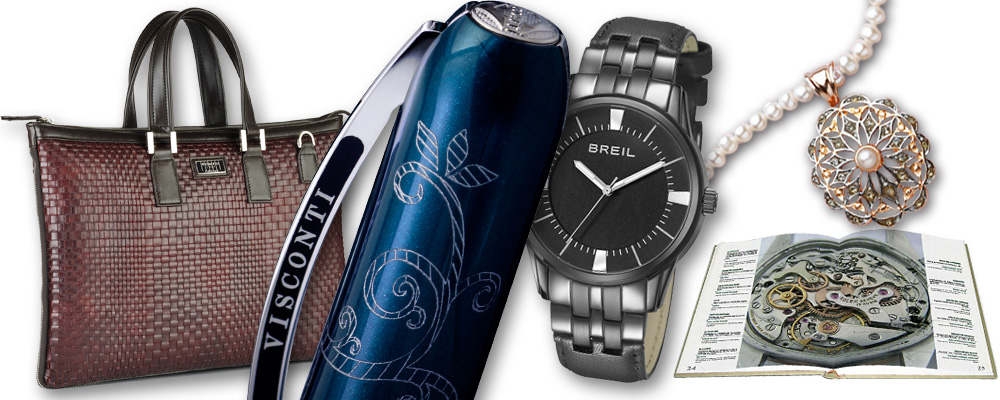 With reference to our previous example: six months after buying your Garden of Eden roller pen, you decide to buy a new briefcase. Model Lorenzo by Romeo 1931 Luxury is just perfect for you, with its finishing of full grain leather. It's 450€, but you're still entitled to your 19,40€ Fidelity Discount. Therefore, you'll pay only 430,60 € for your Lorenzo briefcase.
After the purchase (or better yet, after the order has been closed and shipped) you will automatically become a Gold customer, as over one year you have purchased items for a total of 864,60 €.


What happens next?
All you have to do is to sit back and enjoy our website.
The next time you enter the website, you will see that your gold discount has already been applied and is shown as in the picture here.
And that's not all! Because at the time you purchased your briefcase you were not a Gold customer yet, you earned another Fidelity Discount of 43,06€ that will be applied on your next order, even if you already are charged the discounted Gold prices!
All the advantages of being a customer of Giardino Italiano
At Giardino Italiano's you get to walk down the red carpet. We walk you along a rewards path that gets better and better if you remain a loyal customer:
All customers can benefit from our special sales on Giardino Italiano's website, starting from the very first purchase.
You don't even need to register for your first order: we do it for you when we process your request and we'll mail your credentials to you straight away.
You can benefit from Fidelity Discount starting from your second order. It's valid for 12 months and it is applied automatically to all subsequent purchases.
Gold customers buy at special prices and the have priority over special and limited offers.
What are you waiting for? You have no excuse for not being one of our customers. Welcome to Giardino Italiano's!
Susanna Buffo