In these latest days, Omas announced some news.
New collections, whose release is scheduled for the end of June; and we're already collecting bookings.
OGIVA VISION
The first news is a re-edition of   Ogiva Vision, a historic collection of a few years ago, now sold out, which is proposed now in blue or green translucent cotton resin.
Both pens are piston filled,  rhodium plated or gold-plated brass trims, and feature a small gem in the clip instead of the small rotating sphere: lapis for the blue pen, and green agate for the green pen.
Their nib is special: it's a special extra-flexible 14 kt gold nib, available as EF, F or M.
The "flex" nibs are different from the normal ones for their ease of variation in stroke thickness at different pressures. The nib's tips easily open apart by pressing the pen, thus widening the stroke, and immediately return in place when you lift, thus going back to writing with fine or extrafine line.
They're suitable not only for calligraphy practice or  for ornate signatures: they can simply add something more personal and graceful, to normal writing, without any effort.
Superlimited Edition: only 35 fountain pens each color are now available, (of 150 originally made on commission!) They are really very few and I foresee that they will sold out soon. We are now accepting reservations and I suggest you do not wait too long.
UPDATE, 18 JUNE 2012:
blue pens are completely sold out. i still have a few of the green model.
 .
LE CITTA' : ROMA
The other novelty of Omas regards a new prestigious series, Le Città (cities), dedicated to the most significant cities all around the world. Places that left their mark on the history of humankind and keep driving it, or that are universally recognized as memorable and unforgettable.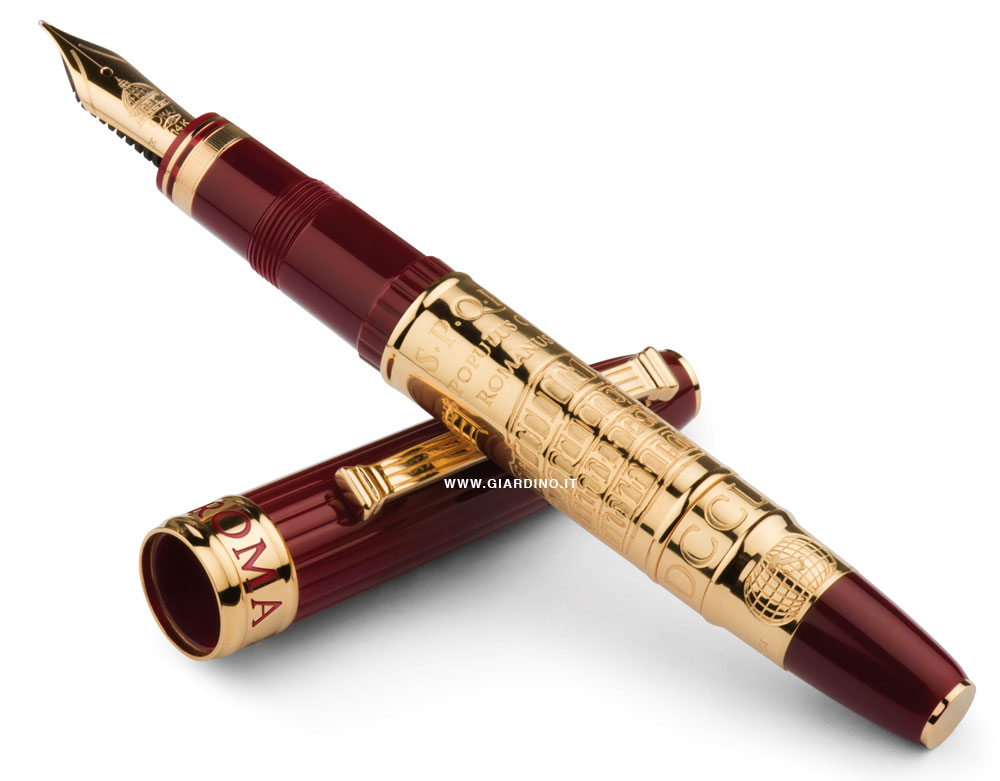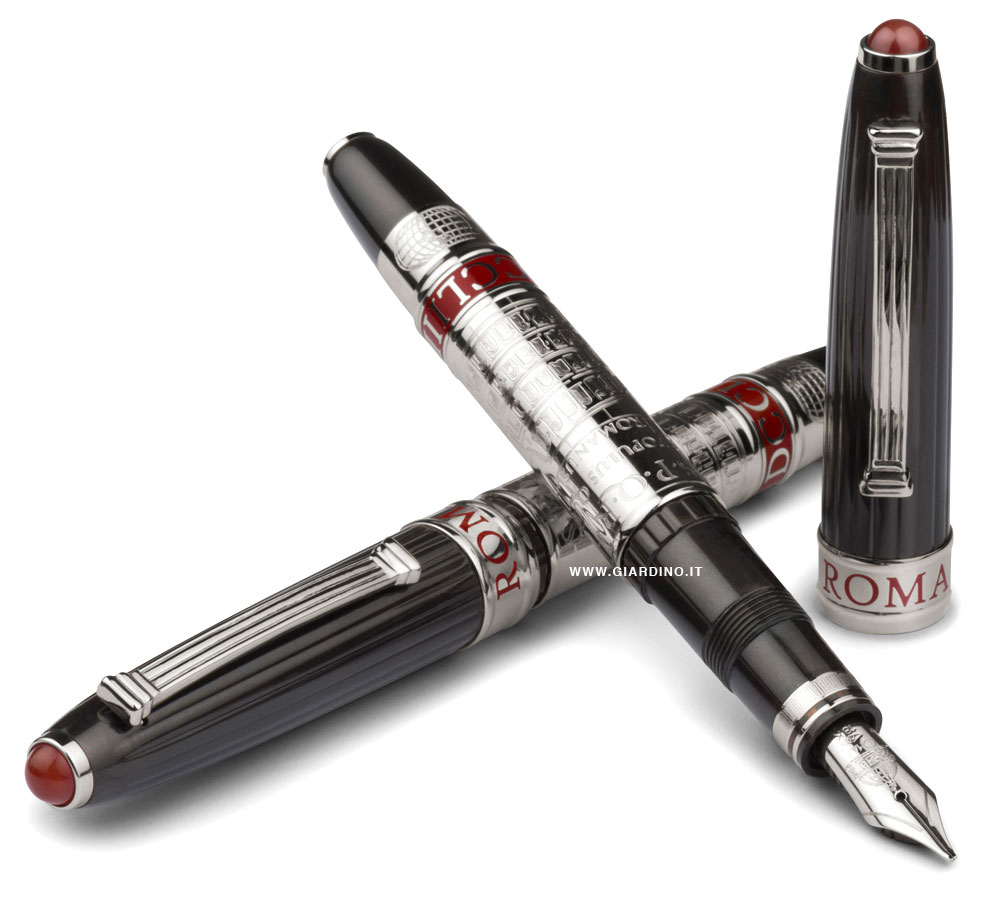 The first one is  Roma, of course,  and a new collection every year is scheduled.
Roma is produced in two versions: burgundy resin with gold-plated brass barrel and trims, or charcoal-gray (almost black) resin with sterling silver barrel and trims.
The black/silver version, therefore, is more precious than the burgundy/gold one, unlike the usual. The price of one is more than double of the other.
Fountain pens feature  piston filling system and 18 kt gold nib.
Matching capped rollerballs complete the collection.
For detailed characteristics, please look at my website: the pen is very rich of symbolic engraved decorations, about Rome: from the Colosseum, of course, to the she-wolf legend, to ancient columns, until quotation and acronyms, such as the famous S.P.Q.R.
BOOKING PROMOTION
The pen is not available yet, but will be released in a couple of weeks.
In the meanwhile, we're giving our customers the opportunity to automatically book it in our website, with just a small down-payment. That way, you'll get a double benefit:
1) precedence in shipping, of course;
2) doubling of the down-payment. What you're paying now, will be deducted twice at ordering.
Example:
I book the silver pen, paying Euro 100 as down-payment.
When the pen is available, I send the final order for paying the difference, and my deposit is doubled: I will be automatically discounted Euro 200, instead of 100 I paid.
The promotion is valid only until the pen is not available yet, of course. Don't miss the opportunity of an extra discount!
.
Susanna
Giardino Italiano
www.giardino.it