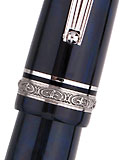 Roma Imperiale is the name of a new sumptuous collection of pens by Delta. It honours the capital of the Roman Empire during its maximum extent, in the II century, under Traiano Emperor. The Roman territory ranged from the Atlantic Ocean to the Persian Gulf, from Britain to Egypt. 
Rome was the main place for trade between East and West as the most populated city in the ancient world with about one million inhabitants; which is why thousands of people flocked to the capital every day enriching artists and writers from all parts of the empire.
Roma Imperiale – Oversize – is realized in 3 classic veined colors of ebonite: blue, red and green.

The central ring is made in solid sterling silver, offering a three-dimensional décor dating to the Greco-Roman period discovered in paintings found in the ruins of  Pompei. The clip is made of a special elastic metal alloy and features a special rotating wheel to ease the positioning in the pocket.
Piston filling system, giant nib in 14 Kt gold nib, F, M, B. The nib is complimented with an extra-large hand-made ebonite feeder, thus allowing an extra smooth ink flow.
Dimensions: 164 mm Length folded to a max diameter of 20 mm.
Open Length 145 mm. Open with cap in place length 177 mm . Diameter of the body 17 mm
Each Roma Imperiale is individually numbered (but is not limited edition)